"And the wilderness becomes a fertile field, and the fertile field is valued as a forest."
The Bible – Isaiah 32:15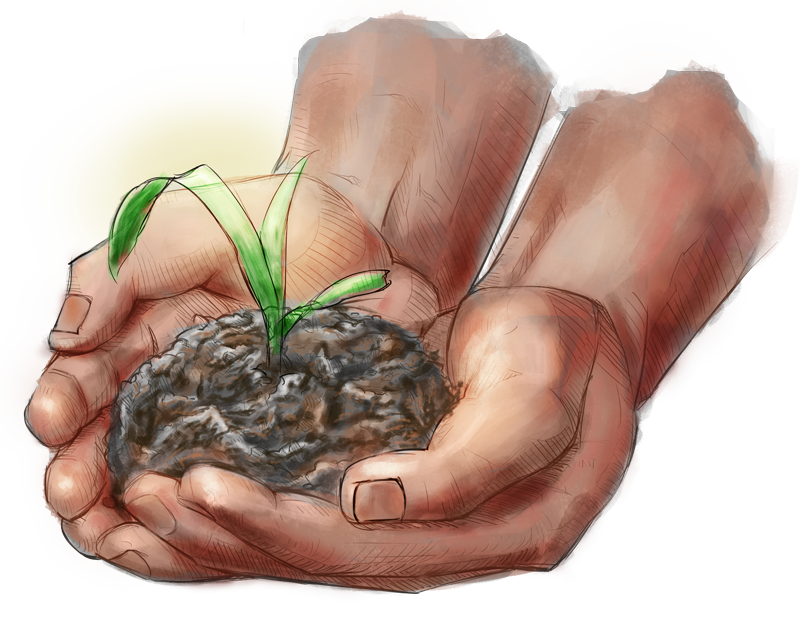 Growing up near Stuttgart in a Swabian town called Backnang, I became involved with soils quite early on – I had not the slightest idea what, back then, would become of me. I dreamed of one day becoming a Biologist or some kind of Sir David Attenborough. I was a straw-blond, tender boy, happy to spent hours watching ants digging tunnels in a soil-filled jam jar, who roamed through nature full of passion and self-evidence in order to perceive it in all its fullness. I hang around a lot on the neigbors' farm, helped out wherever and however I could, and also loved jumping from the hayloft into the big haystack below – just like country boys do.
As I grew up to a young man, my interest in biology, agricultural sciences, and development aid grew, too. This is why I began my professional journey at the Highschool of Agricultural Sciences in 2002 and further elaborated in this field of expertise at the University of Hohenheim. During my general studies, through the passionate work of Prof. Dr. Karl Stahr and his equally passionate staff at the Institute of Soil Science and Land Evaluation, for the first time, I understood the beauty and importance of soils.
For my Bachelor degree I delved into soil science and plant science. During the course and some field experiences in the tropics, I had earned my master's degree as the peak-moment of my scientific training in the field of food security, international collaboration and the sustainable use of natural resources. Helping people and the urge for knowledge about nature has always been a natural part of my being. So is my personal relationship with my LORD and Heavenly Father, who continually encourages and inspires me to the great adventure of life as a believing Christian.
A spirit of research, a thirst for experience and a thirst for adventure took me to Australia and several times to the African continent into the Sahel and the poorest regions of the world.
Since I left university, I have worked full-time in international sales, marketing and product management in horticultural and agricultural companies. Since 2019, I hold a TÜV-certificate in quality managment according to ISO:9001:2015 and a certificate in project management. Lebensgrund is an expression of my heart and belief in a life that matters.
The impetus of my work is my personal faith, which is grounded in the apostolic creed. I perform my tasks out of this inspiration, strength and attitude.
My heavenly Father, His Son Jesus Christ, my Lord and Savior, and the Holy Spirit who lives in me and guides my way, is the ground on which I stand.
These values are the guideline for my cooperation with you and the successful implementation of my consulting value for you and your team.
Clear and unambiguous communication
Open and trusting cooperation
Reliability and commitment
Agricultural Sciences
International Cooperation
Project Management
Quality Management
Holistic Consulting
Transdisciplinarity
Sustainability as per Definition